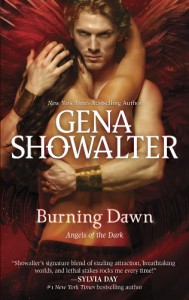 Oh my!!! I'm still on cloud 9 literally after reading Burning Dawn. Not only because it's Thane's book, but because Gena did not disappoint at all with the 3rd installment. In fact, Burning Dawn just jumped to be a TOP favorite of Gena's books and believe me I've read her LOTU and Alien Huntress series. Let's just say it became my second favorite after Darkest Kiss and it's all because of the couples in these books. I literally had a hard time putting down Burning Dawn and when I had to put it down…I was constantly thinking about it. I'm still thinking about it after finishing it.
Some people say that Gena has been losing her sexy touch to her books lately, but oh….Burning Dawn will prove everyone wrong. Oh it definitely will because hello it's Thane's book. Thane is not your typical Sent One because he is what you would call a sex addict. He's not your typical sex addict though, he needs pain during sex on himself or the women he uses. He has his reasons behind the pain and how Gena opens upBurning Dawn, you'll just want to continue reading to find out what makes Thane the way he is. When Thane walks into a room, silence falls, immortal women start drooling, and immortal men try not to make eye contact because well, he's one dangerous, scary, intimidating, sexy assassin. Just thinking about him the way Gena describes him…*sigh* Yup..Thane just became a top favorite book-boyfriend for 2014. I'm jealous Elin won him over. **** Oh…and ladies his "Jumbotron" is pierced and not just in one place. =)
Elin is the lucky gal that wins the heart of Thane in Burning Dawn and she's perfect for him. The way she meets Thane is during her time at the Phoenix camp that has been using and abusing her due to her being a halfling. She has been through a lot in Burning Dawn and she needs the help of Thane to rescue her from her fate with the Phoenixes, and for her to maybe even get revenge for what was done to her family. Thane though is there trapped as well by another Phoenix who is using him and he's under her spell. Elin will have to get the courage to help get him out of that spell, and hopefully he will help her and protect her for what is to come. Thane becomes intrigued by Elin after he helps her and he has no idea why. He has never felt this way about any woman before, especially one like Elin. Elin though has to keep a major secret from him otherwise she'll end up like the Phoenixes that had Thane. (Let's just say this is when Thane shows is scary side)
Elin's spunky, feisty, funny personality is complete opposite of Thane, but these two were definitely meant to be. Thane is confused with Elin several times in the book and I don't think I've ever seen this Sent One be confused ever. (LOL) If you've read the previous books in the series, you already know how Thane is and he shows another side of himself in Burning Dawn. I didn't think anyone, but Lucien from Darkest Kiss would win over my heart, but Thane definitely did. He has a horrible past and so does Elin. Poor Elin! For someone like her who went through so much, she is handling it well, but she has the help of Thane, Bjorn, and Xerxes now and Thane's workers at his club. Elin meets friends that help make her open up more and these immortal gals, I hope to see more of in later books. (They were hilarious together)
Gena gives us the LOTU too in Burning Dawn and she ends up continuing what happened in The Darkest Craving with William in this book. The Sent Ones want to help and LOTU end up helping Thane during something that happens with Bjorn in this book.
I could go on and one about Burning Dawn…but don't want to spoil it for anyone. Let's just say this book will definitely keep you turning the pages. The smexy times between Thane and Elin are SCORCHING!!! Oh my! Be prepared to have a cold shower after reading their scenes together. Elin is one lucky gal. (Oh…Elin ends up making Thane beg…hehe) Gotta love a gal who can make a Sent One succumb to begging. She evens leaves him wanting more. =)
Gena's writing style is addicting to read because of how she is able to keep up with all her characters, manage a dramatic action-packed storyline, and pull together two characters with some very HOT moments together. I have no idea how she does it because she has so many characters to keep up with and she manages to pull in other characters from another series into the mix. Let's just say she is friggin' amazing with it all. I adore everything about her Angels of the Dark series, and look forward to reading more Sent Ones who they end up with. I definitely need Xerxes, Bjorn, and Axel's books. (especially Axel)
One last thing….the ending of this book was EPIC! Gena put these characters through bloodshed, tears, torture, and a lot more that throughout the book, but that ending. Yeah…be prepared to go through hell with the characters due to your emotions going haywire for them. Poor Bjorn has his own drama in this book that you will want to pay attention to.
I give this book 5 full moons and highly recommend it to paranormal romance readers out there. You must read the first two books first before reading this one. I would even recommend reading the LOTU series. There is reasons behind it at all due to how Gena is able to mix her two series together.
I received a complimentary copy of the book from the publisher in exchange for an honest review.